An Historic Day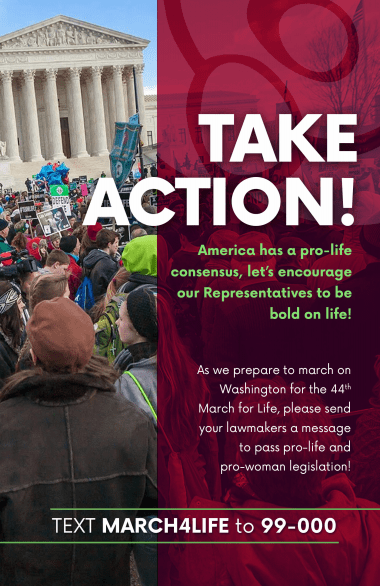 Today is Inauguration Day, and I am reminded of how blessed we are to live in the United States of America and witness the peaceful transition of government from one Administration to the next.
Under the Obama Administration, our nation saw an unprecedented expansion of government abortion funding, and the prosecution of pro-life Americans – like the Little Sisters of the Poor and the staff at the March for Life! – because of our pro-life beliefs.
I am hopeful about the incoming Administration. I am optimistic that in these next 100 days, and coming years, we can see a reversal of pro-abortion policies in our government. The new Congress presents the pro-life movement with many opportunities to pass pro-life legislation and advance a culture of life.
President-Elect Trump has made pro-life promises and has assembled a team of personnel with incredible pro-life convictions, and qualifications, starting with Vice-President Elect Pence. (In fact, senior advisor to the incoming president, Kellyanne Conway, will be speaking at the March for Life one week from today. In a recent interview, she referred to herself as "one of the pro-life rank and file.")
But this won't happen unless our voices are heard. Pro-life Americans cannot sit back and expect Washington, D.C. to do the work. We must hold our elected officials accountable and demand an end to abortion extremism.
Our pro-life priorities for 2017 include:
H.R. 7, The No Taxpayer Funding of Abortion Act, codifying the Hyde amendment and federal funding of abortion.
Pain-Capable Unborn Child Protection Act, restricting abortion after 5 months of pregnancy, at which point babies can feel pain.
Legislation defunding Planned Parenthood, the nation's largest abortion provider.
Will you write to your elected officials in Washington and encourage them to prioritize pro-life legislation? (Click the Take Action button below to do so – every voice matters!)

I also want you to know that, on behalf of all marchers, March for Life Action will be working tirelessly in the coming months to make sure these priorities are passed and signed into law,
Furthermore, earlier this month, March for Life Action announced the launch of a new and comprehensive "Pro-Life Scorecard" to identify and measure national pro-life legislation to keep you informed and hold elected representatives accountable.
>>>> See March for Life Action's announcement on a comprehensive pro-life congressional scorecard.
Just days before we march for life, the House of Representatives will vote on H.R. 7, the No Taxpayer Funding of Abortion Act. Do not delay, in sending this important pro-life message to your congressman and senators.
Thank you for all you do for the cause of life. We are grateful for you and look forward to seeing you one week from today in D.C. for the March for Life!
Visit our ACTION CENTER to send a pro-life message to your lawmakers!