Kellyanne Conway to Speak at the 44th Annual March for Life in Washington, D.C. on January 27th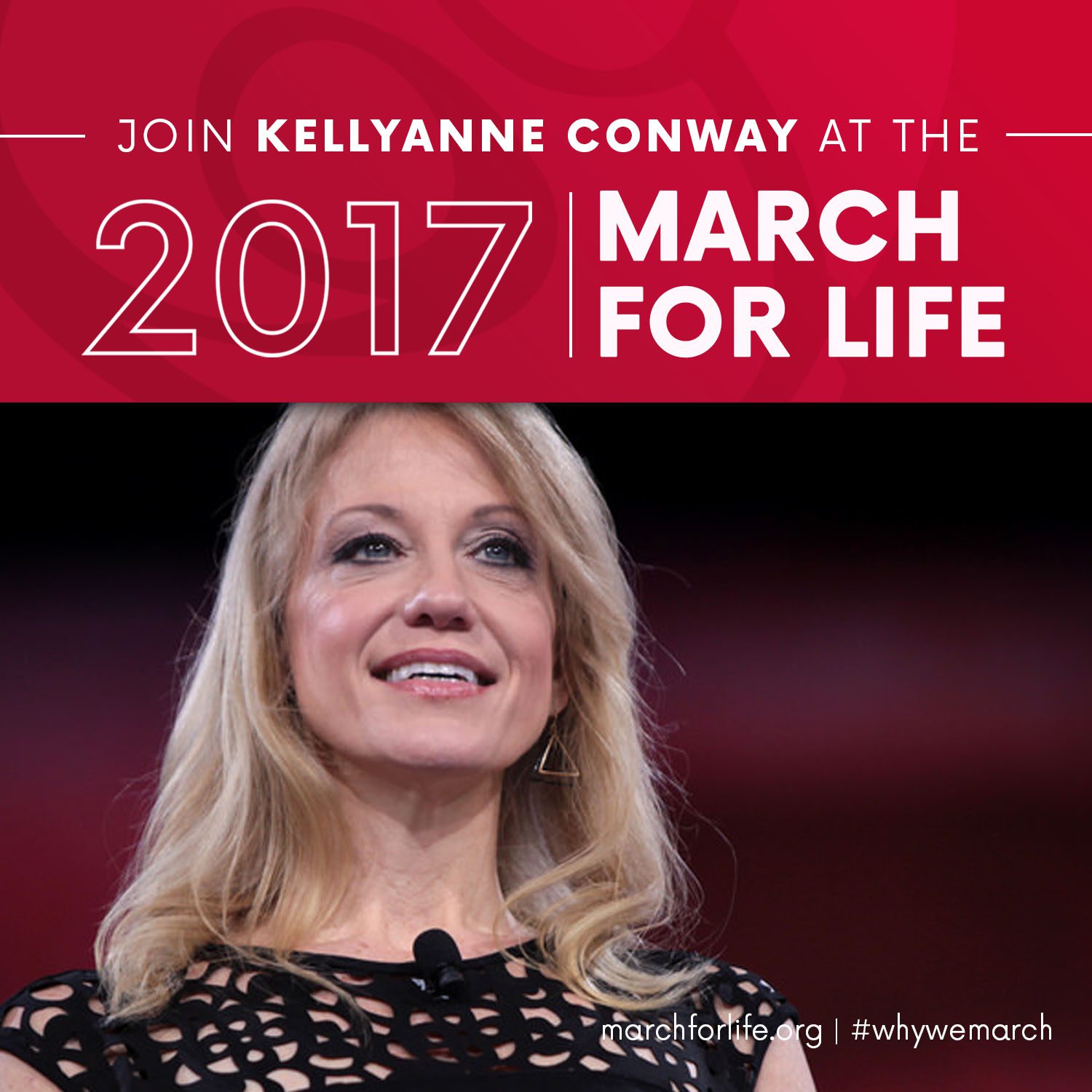 Conway joins a lineup of prominent pro-life leaders exemplifying this year's theme, "Power of One"
PRESS RELEASE: January 10th, 2017
CONTACT:
Kate Bryan kbryan@CRCPublicRelations.com
Mari Buttarazzi mbuttarazzi@crcpublicrelations.com;
Matille Thebolt mthebolt@crcpublicrelations.com
Washington, D.C. – The March for Life announced today that Kellyanne Conway, President of the polling company, inc./WomanTrend, and highest-ranking woman in President-elect Trump's administration, will speak at the 44th annual March for Life, the world's largest annual pro-life demonstration, in Washington, D.C. on January 27th, 2017.
Conway will join other notable speakers including Archbishop of New York Cardinal Timothy Dolan, former Planned Parenthood Director and founder of 'And Then There Were None' Abby Johnson, Mexican Telenovela star Karyme Lozano, author and radio host Eric Metaxas, Bishop Vincent Matthews of the Church of God in Christ, who advocates for adoption in the African-American community, and more at the March for Life rally on the National Mall on January 27th, 2017.
"We are thrilled to have Kellyanne Conway speak at this year's March for Life. As the first female to run a successful presidential campaign and as a steadfast advocate for life and family issues, Kellyanne beautifully embodies the 2017 March for Life's theme, 'The Power of One'," says Jeanne Mancini, President of March for Life.
"Our other speakers also personify 'The Power of One' theme and show how one person has the power to change the world and saves lives," Mancini concluded. "It is our hope that this year's March for Life will encourage each of us to seek and fulfill our unique mission to the best of our ability because only in doing so we will collectively build a culture of life in the U.S. — a culture where abortion is unthinkable."
Tens of thousands of Americans are set to travel from across the nation to D.C. for this year's March for Life, which seeks to promote the dignity of every human life and to stand against the greatest human rights violation of our time – abortion-on-demand. More speakers and guests to be announced soon.
The 44th Annual March for Life
January 27th, 2017
MFL Rally – starts at 11:45am ET
March for Life – starts around 1:00pm ET (directly after the Rally concludes)
The March for Life and the Rally will begin on the grounds of the National Mall and the MFL will end in front of the U.S. Supreme Court.
For March for Life press credentials, please contact one of the following:
Kate Bryan – kbryan@crcpublicrelations.com; 703.683.5004 x1136
Matille Thebolt – mthebolt@crcpublicrelations.com; 571.501.4067
Mari Buttarazzi – mbuttarazzi@crcpublicrelations.com; 703.683.5004 x1120