"I know that the Life issue is not and cannot be just a partisan issue"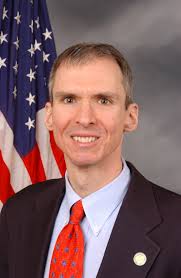 Those of us braving the cold yesterday were grateful for the many motivating speakers the March for Life rally had. One disappointment was that one of the speakers, Rep. Dan Lipinski (D-Ill.) was stuck on a tarmac back home in Illinois and couldn't make it in time due to the weather. He did make it in time to host a screening of the new pro-life movie "40" and join us at last night's Rose Dinner.
His office was kind enough to share the remarks he would have given, weather permitting. I have posted them below:
March for Life
Remarks of Congressman Daniel Lipinski
January 22, 2014
Good afternoon! Thank you for braving the snow and the cold and joining together for Life!
Yes, I am a Democrat. I know that the Life issue is not and cannot be just a partisan issue. I see a lot of Catholics out there – and I especially want to welcome all those from the Chicago and Joliet Dioceses – but this is not just a Catholic issue, or even just a religious issue. It's an issue that should motivate everyone who believes in science, human rights, and truth – the protection of our most basic right, the right to life.
Many said that after Roe v. Wade in 1973, the issue of abortion had been settled in America, but look around you. How many of you were not even born 40 years ago? As you can see, the pro-life movement continues to build, continues to grow, and we will not rest until all life is protected and respected.
I want to thank you for coming to Washington to help in the work I am doing with my colleagues up here to change the laws of our land. But don't just go home and leave it up to Washington. We can't lose focus on the need for every single one of us to work to change the hearts and minds of our neighbors.
Being pro-life is not just being anti-abortion, it is about embracing life. It is about supporting pregnant mothers in need, which we see every day in our pregnancy support centers across the country. It is about promoting adoption and encouraging mothers in difficult situation to make this heroic decision. It is about Project Rachel and other post-abortion healing ministries. It is about loving and giving dignity to all.
Every year, I am uplifted by your participation in the March for Life. And with hard work and God's grace, we will move our nation to the culture of life. God bless you, and God bless America.
###