Women of the Pro-life movement: Dr. Mildred Jefferson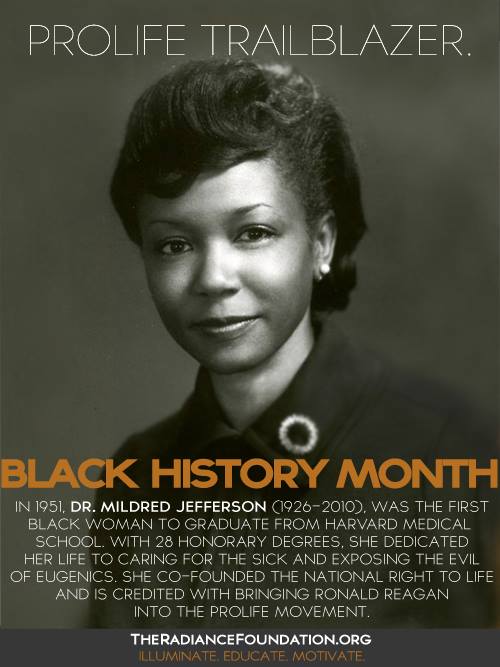 The month of March is a turning point. It's the Lenten season for many Christians.  Less seriously, it's the end of the regular season for college basketball fans and the beginning of "March Madness."  It's also a month of unpredictable weather, such as the 30 degree temperature swings we've been experiencing in DC lately, as we say goodbye to winter and wait for spring.
March is also recognized by the U.S. Government as "Women's History Month." According to womenshistorymonth.gov, we "join in paying tribute to the generations of women whose commitment to nature and the planet have proved invaluable to society".  There are countless women who have dedicated themselves to making the world a better place and to ushering in a turning point in history, so it's fitting that we should honor and celebrate them this month.
Throughout this month, I want to highlight three women who were some of the early leaders and catalysts of the pro-life movement. While the chances that you will read about them in your history book are slim, their dedication to the dignity of all women, and human life is worth noting and worthy of our recognition.
Dr. Mildred Jefferson, was the first African American woman to be accepted to Harvard Medical School. According to the Boston Globe she "broke many race and gender barriers in her long career as a doctor", but most notable is her work and dedication to the pro-life movement. As a young doctor she became concerned with efforts within Massachusetts to change abortion laws. This led her to become a co-founder of Massachusetts Citizens Concerned for Life. She was a founding member of the National Right to Life Committee, and served as the president of the organization three times. Dr. Jefferson was known for her eloquence at expressing, and defending the right to life, and traveled around the country using this gift to change hearts and minds. She is even credited with influencing Ronald Reagan's conversion from pro-abortion to pro-life.
Dr. Jefferson eloquently explained her pro-life convictions and how they worked hand in hand with her medical expertise:
"I became a physician in order to help save lives. I am at once a physician, a citizen, and a woman, and I am not willing to stand aside and allow the concept of expendable human lives to turn this great land of ours into just another exclusive reservation where only the perfect, the privileged, and the planned have the right to live." –Mildred Jefferson, M.D. (2003, American Feminist magazine)
Her beliefs and actions were most certainly a turning point in the pro-life movement.  She is an inspiration to young women today who continue her fight for a society where every human has the right to life and is valued by society.
Watch this video from The National Right to Life Committee on Dr. Jefferson's life and contributions to the pro-life movement: