You are invited: Bon Voyage Kathleen Sebelius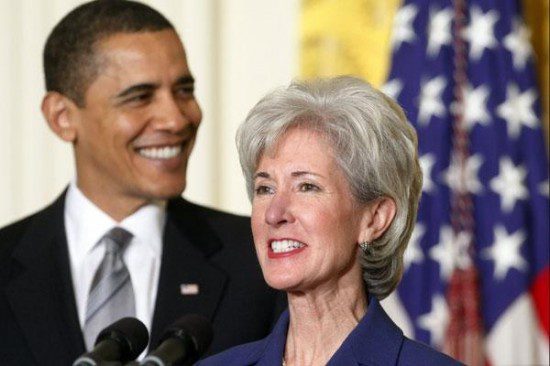 In her time heading up Health and Human Services (HHS) the department has turned into a hyper-partisan tool to further liberal pro-abortion policies to the point that even career employees within HHS have complained about the problems. So I can certainly sympathize why they would want to throw a going away party for Kathleen Sebelius. This was sent out to DC area HHS staff yesterday.
To: HHS-STAFF-METRODC@LIST.NIH.GOV
Subject: Invitation to Farewell Event for Secretary Sebelius
Dear Colleagues,
As you know, after more than five years of extraordinary leadership, Secretary Sebelius will be leaving the Department.
Under the Secretary's watch, we led our country through the H1N1 pandemic; we have worked to bring our food safety system into the 21st century; we have pushed the boundaries of science and technology to find critical cures; we have reformed and improved the way we help low-income kids prepare for a better future; we have expanded the reach of our Community Health Centers; we have increased access to behavioral health services; we have
transformed the way we work with Indian Country; we have reorganized to better align our programs to maximize the independence of the elderly and people with disabilities; we have worked to reduce tobacco usage and obesity rates; we have reduced ethnic health disparities and are closer to an AIDS-free generation; and of course, we have successfully implemented the Affordable Care Act, the most historic reform of our health care system since the passage of Medicare and Medicaid.
From Day One, Secretary Sebelius has been a tireless advocate for the issues we care so deeply about and the people we serve through our programs. Through her tireless work, she has left an indelible mark on our nation's history and profoundly contributed to our nation's health and well-being.
We know all of us want to honor her leadership and wish her well. Please join us on Monday, June 2nd from 4:30-6:00PM in the Great Hall of the Hubert H. Humphrey Building to celebrate her outstanding service to our nation as the Secretary of Health and Human Services.
We look forward to see you there.
Sincerely,
Bill Corr Andrea Palm
Deputy Secretary Chief of Staff
For more on how HHS has changed for the worse under Mrs. Sebelius please go here.