Where Do We Go From Here?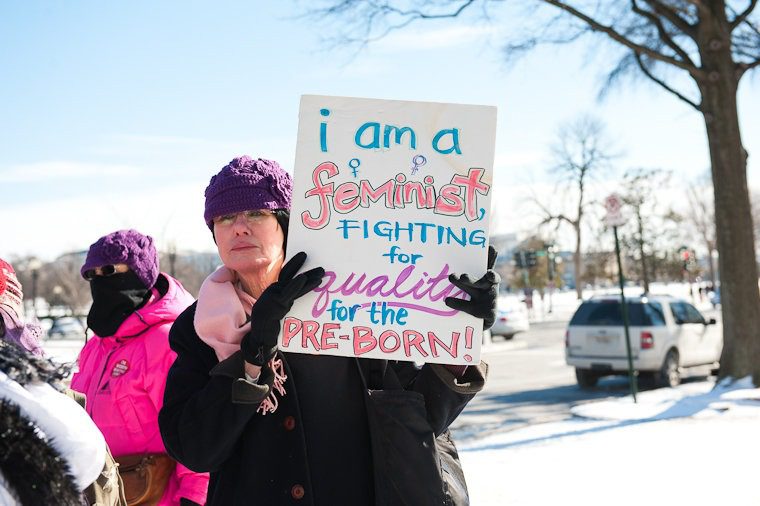 Despite a cold freeze in Washington, D.C. last week, pro-life America once again turned out for our annual March for Life (MfL) in "droves and droves and droves and droves" to borrow a phrase from one reporter covering the story. The bright sun and snow combined at times so that the ground on the National Mall appeared to almost sparkle, appropriate given the energetic spirit emanating from our young participants throughout the afternoon.
Marchers' signs were creative and compassionate. Included were "Peace Begins in the Womb", "I am a Feminist Fighting for Equality for the Pre-Born", and "Babies Are a Blessing Not a Burden" among many others. We were delighted by more mainstream media coverage this year, including CNN, MSNBC, FOX, ABC and many print outlets.
Social media was a big part of the March for Life. Young people had smiles on their faces and mobile phones in hand. The day prior to the March, the first ever MfL "app" was unveiled and during the March for Life rally, a text number (99000; keyword: "march4life") was provided to participants to stay in touch. The two twitter hash-tags associated with the event, #marchforlife and #whywemarch, "trended" on twitter on January 22, 2014 (for non-social media types, this means that these hash-tags were two of the top six common twitter phrases utilized by tweeters throughout the day – no small feat).
In many measurable ways, the 2014 March for Life was a success! And we are ready for a break now – our staff is tired after putting in long hours leading up to the event. Young people who slept on busses and took long rides to the March for Life are still defrosting and recovering from the trip. And their chaperones are really exhausted! But our work is not done; and there is no rest for the weary! If the enthusiasm that was contagious on the day of the March for Life dims over the day or week after the event, in reality the March did not meet its most important goal: changing culture.
So, the question is: where do we go from here?
Many of you have heard that that March for Life Education and Defense Fund is now a year-round organization, with our ultimate lofty goal being to help build a culture of life in America. We believe that one of the ways this will happen is through participants continuing to figuratively "march" year round. We plan to stay in touch with those who were involved with the MfL – either in person or through social media- by helping to provide tools to impact local areas to become more respectful of life. We will do this through trainings and webinars. We also plan to continue to use social media for ongoing pro-life education of Marchers. In the spring, we will co-host a conference for women around the time of Mother's Day.
So, as we begin 2014, let us take a few minutes to soak in our experiences last week. But let us not stop there but rather further consider what we can do to make an impact all year round in our communities, be it through starting a group, writing an op-ed, joining a school board or health board, or praying in front of an abortion clinic. Every little action counts. It is only in this way that as a collective unit we will be able to truly build a culture of life across America, one community at a time.