The March for Life Announces New Chairman of the Board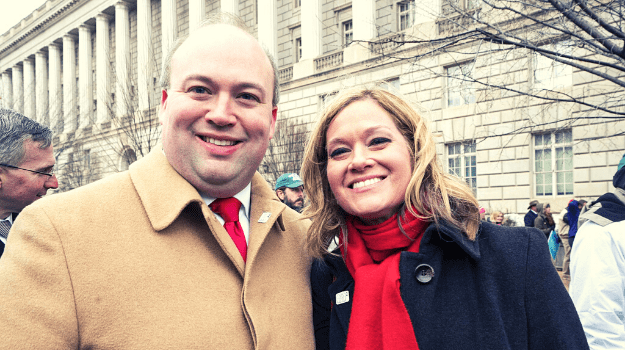 Washington, D.C. – March for Life Education & Defense Fund is pleased to announce Tim Saccoccia as the new Chairman of the Board. Saccoccia's expertise, experience, and personal commitment to the mission of the March for Life will serve him well in this new position. "It is with great joy that we welcome Tim Saccoccia as the new Chairman of the Board at the March for Life," said Jeanne Mancini, president of March for Life. "His work as Secretary of the Board of Directors for the March for Life and his nearly decade of experience as Senior Policy Director for the Knights of Columbus makes him a perfect fit for the position. I look forward to continuing to work closely with Tim to foster a culture of life and build a world where abortion is unthinkable."
"The cause of life is so important today when so many are denied that foundational right before they are born," said Saccoccia. "I look forward to advancing this cause in my new leadership role. The March for Life and its mission occupies a special place in the movement to protect the unborn and I am proud to continue to serve this organization."
Saccoccia succeeds outgoing chairman Patrick Kelly, who was recently named Supreme Knight of the Knights of Columbus.
"The March for Life also sincerely thanks Patrick Kelly, the outgoing Chairman of the Board, for his 10 years of service to the March for Life, including over eight years as Chairman," Mancini said. "He has our deep gratitude for his model leadership and advocacy for the unborn throughout his tenure," said Mancini.
Kelly lauded the decision as well, "As I assume the demanding duties related to my new role as Supreme Knight, it is an immense comfort to know that leadership of the March for Life Board and the great cause it represents will be placed in the extremely capable and dedicated hands of Tim Saccoccia."
Saccoccia brings years of public policy and government relations experience from his role as Senior Policy Director for the Knights of Columbus, the world's largest lay Catholic family organization with more than 2 million members. In this capacity, Saccoccia is the principal representative of the Knights of Columbus in Washington and has responsibility for representing the Order before Congress, the administration, and state governments on issues related to the sanctity of life, religious liberty, and health care, among others. As Senior Policy Director, Saccoccia has planned and executed successful grassroots campaigns against anti-life initiatives at the state and federal levels.
Saccoccia has been a member of the March for Life Board since 2011 and its Secretary since 2015.  He also sits on the board of March for Life Action. Saccoccia holds a Bachelor of Arts degree, cum laude, in Political Communication from The George Washington University School of Media and Public Affairs.