The Legacy of Henry Hyde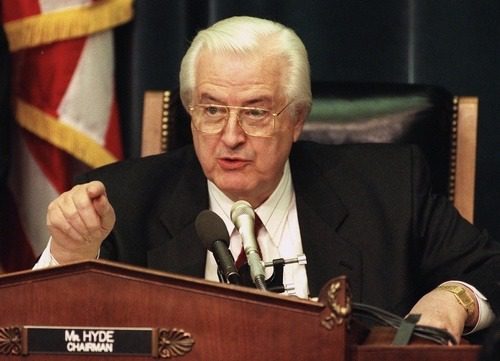 How many Congressmen can be credited for saving hundreds of thousands of lives due to their legislative achievements?  Probably not many at all, but we know of at least one – the late Congressman Henry Hyde (April 18, 1924 – November 29, 2007), who we remember today on his birthday.
In 2007, the pro-life movement lost Hyde, a Republican Congressman from Illinois who was a stalwart defender of human life.  One of the Congressman's great legacies is the Hyde Amendment, which restricts federal funding for abortions.  Now if you google "Hyde Amendment" you might have a hard time finding the truth about this life-saving legislative policy.  That's because pro-abortion forces have a determined coalition, the National Network of Abortion Funds, to get rid of the Hyde Amendment.
Why do they want to get rid of the Hyde Amendment?  Because it's a policy, that under conservative estimates, has protected over a million lives from abortion. Many studies, including those from the pro-abortion Guttmacher Institute show how funding restrictions on abortion result in a reduction of abortions, and therefore, lives saved.  Unfortunately, pro-life members of Congress have to fight to include this pro-life "rider," as it's called in legal lingo, on yearly appropriations bills. AND, the Hyde Amendment doesn't apply to Obamacare.
Henry Hyde was passionate about the sanctity of life, in words and deeds. I encourage you to read his eloquent speech to Congress in 1996, urging his colleagues to overturn President Clinton's veto of the Partial-Birth Abortion Ban. Below is one quote from the address, which is particularly poignant on the day that we remember the ultimate sacrifice Christ made for us on the Cross at Calvary.
"I am not the least embarrassed to say that I believe one day each of us will be called upon to render an account for what we have done, and maybe more importantly, what we fail to do in our lifetime, and while I believe in a merciful God, I believe in a just God, and I would be terrified at the thought of having to explain at the final judgment why I stood unmoved while Herod's slaughter of the innocents was being reenacted here in my own country."
On his birthday today, we remember Henry Hyde for his commitment to speaking out for society's most vulnerable, unborn babies. May his legacy be an inspiration to each of us.