Student's Guide for Participating in the March for Life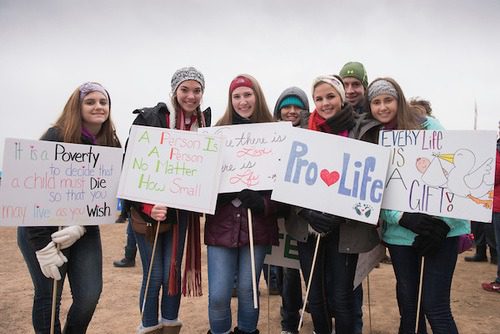 Get ready to make thousands of new friends with your fellow pro-life students! We want to make sure that you have a meaningful March for Life experience, and that we are a unified movement to impact our friends, culture, and our representatives in government.
Below are a few tips!
Connect with the March for Life

Follow us on social media – this is the best way to stay connected and engaged with what's happening.
Download the 2017 March for Life app – great guide with content and information on the March for Life and pro-life activism – perfect for a long bus ride! The app is available for Apple and Android devices. Text MFL2017 to 99-000 to get the download link.

Hashtags

We want our friends, family, and the world to know why we are marching.
Our primary hashtag is #WhyWeMarch. Use this in all your posts, and share why you are marching.
On Instagram, you can also use #marchforlife, #prolife, #prolifegen, #standforlife, #powerofone #prolifeprowoman, or perhaps your group has a specific hashtag – be creative!
All of your #whywemarch and #marchforlife posts will be compiled at WhyWeMarch.org.
This is how we change our culture, with the truth and love of our advocacy.

Pictures and videos

You can be a "citizen journalist" at the March for Life – upload your pictures and videos with #whywemarch to show the truth of the beauty –and size of the crowd! – at the March for Life.
Tag your local news station on Twitter/Facebook, or national news stations as well.
Post a video or email to info@marchforlife.org of you or your group sharing #WhyWeMarch.

Facebook Live

This is a new tool that allows Facebook users to livestream events, and these videos reach a much larger group of people than regular Facebook posts – this is a great opportunity to show the truth of the March for Life!

Pro-life policy

Now more than ever, it is important that our lawmakers hear from pro-life Americans – especially young people! In addition to social media messages, we need every March for Life participant to send a message to their Congressman and Senators asking them to prioritize pro-life policies in the new Congress.
Simply text MARCH4LIFE to 99-000 and you'll receive a text back with a link to send a quick pro-life message to your lawmakers.
The March for Life is an incredible experience, and we know that you will be inspired and encouraged in your pro-life convictions. Our theme this year is "the power of one." Your voice can make a difference, during the March for Life and throughout the year.
Together, we can change our culture for life!