Marching On: Claire Lejeune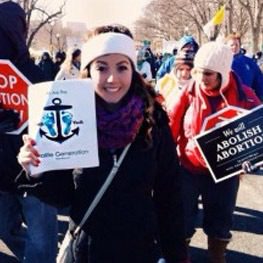 The next young lady we'd like to introduce you to has been attending the March for Life since she was only 4.  An 18 year old from Northern Virginia and student at Northern Virginia Community College, Claire Lejeune has been marching on for many years.  In fact, she's already created an international pro-life organization.  Read more about her in our interview below, and don't forget to share YOUR "Marching On" story.
What impacted you the most at this year's March for Life?
I've been attending the March for Life every year since I was just a little kid, but this year was the most impactful.  This past January I truly realized the extent of the pro-life youth that attend the March for Life.  I went with the purpose of seeing how many young people really were there, and I was blown away, that despite the absolutely frigid temperatures, young people from all over the country, and all over the world came to DC in droves to speak out for life.
How have you been marching on for life?
At the March, and since January, I've had the opportunity to advocate for the group I started when I was 16, Prolife Youth.  It first started as a Twitter presence, then Facebook, and then the blog was established at the beginning of this year.  Youth bloggers from all over the world, in the age range of 15-28, contribute to the blog.  The goal is for young people to be able to educate our peers, and help each other stand up for life.  We even made #ProLifeYouth trend nationwide this past June!
How do you see yourself involved in the pro-life movement in the future?
I love to help people see the truth about life.  So I don't know exactly, but I know that's what I want to do. I certainly want to keep growing Prolife Youth; we've got lots of ideas and projects for the near future.  I also plan to begin sidewalk counseling as well.
What's your advice for fellow young people?
Don't be afraid of what other's think of you.  Doing something that makes you uncomfortable can often make the biggest impact.  Wether you post a pro-life article on your Facebook page or walk across America for life, just do something. That's what will end abortion.
You can follow Prolife Youth on Twitter @ProlifeYouth and Claire@TheFrenchChicka
Be sure to check out the ProLife Youth Blog HERE.