A Jewish Pro-Life Perspective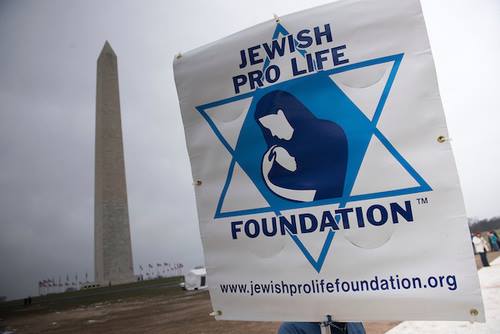 Guest Blog Post by Cecily Routman, Founder of the Jewish Pro-Life Foundation
In 2006, NPR broadcast a program on the Supreme Court review of the Partial Birth Abortion Ban Act of 2003. The broadcast featured a pro-abortion Jewish woman defending her right to a partial birth abortion. She based her right to practice infanticide on her religious beliefs and her civil liberties. For many years I remained neutral and uninformed about the abortion issue. I was bewildered that this Jewish woman believed that our religion and our country allowed such an action – and I wondered if she was right!
It concerned me that anyone, Jew or Gentile, listening to the broadcast would be led to think that she represented the voice of the entire Jewish community. Classically observant, religious Jews, who hold pro-life convictions, weren't available for comment.  I searched and found not one Jewish pro-life organization that could counteract the strident pro-abortion voices coming out of the Jewish community. This disturbing incident compelled me to learn the history, reality, and current views on the social, legal, medical, spiritual, and Jewish attitudes on abortion.
Traditional Judaism is a pro-life religion. It emphasizes the sanctity of human life from conception to unequivocal death. Human life is intrinsically valuable; preserving life is a moral imperative; all lives are equal; all life belongs to God. Essentially, abortion is judged to be the unwarranted taking of a life within a life. It is prohibited, just as murder is prohibited.
Traditional Judaism requires that unborn life be protected, but it also requires that it be sacrificed to save the mother from imminent physical death, originally relating only to cases of breech birth in a time before cesarean delivery.
The Holy Temple, the center of Jewish biblical law, was destroyed in 70 CE. Before this catastrophic event, Jewish legal opinion on abortion reflected this almost universal prohibition and sole exception. Afterward, the dispersion of Jewish populations into surrounding pagan cultures led to an upheaval of Jewish social and legal norms. Over centuries, rabbinical legal opinions on abortion reflected more secular attitudes. The requirement to use abortion in one rare situation became the misguided and tragic basis for the absolutely false declaration that abortion is legal in Judaism without restriction.
According to a May 2016 Gallop Poll entitled "US Religious Groups Disagree on Five Key Moral Issues," 76% of Jews in America today believe that abortion is morally acceptable. Many of these Jews actively promote pro-abortion legislation and the use of abortion in their communities and families. They support Planned Parenthood and consider fetal organ sales a tool of moral medical research. They have been thoroughly conditioned to believe that elective abortion throughout the entire pregnancy is good for women. Many rabbis who feel justified religiously and socially, support abortion rights and deliver pro-abortion messages to their congregants.
I started the Jewish Pro-Life Foundation as a way to insert a Jewish pro-life voice into the public conversation, to provide pro-life information specifically to Jews, to build a Jewish pro-life community, and to offer a Jewish healing program for our silent suffering post abortive men and women.
The Foundation is a 501(c)3 family funded educational organization. We are not affiliated with any Jewish denomination, political organization, or the messianic movement. Established Jewish religious and social organizations, fearing a loss of financial support from pro-abortion donors, react to us with hostility, indifference, or skepticism. We circumvent these obstacles by relying on social media, advertising, letter writing, speaking opportunities, and public participation in pro-life activities to share our message. Our Facebook page has 1804 likes and 4.4 stars! The website draws many thousands of visitors. Our pro-life community is growing!
Each year that we attend The March for Life we are enthusiastically welcomed by many in the crowd. Our participation began in 2008. Completely overwhelmed, I cried the entire time. In 2009, we brought our large banner with us. A young Jewish woman appeared out of the crowd, excited and relieved to connect with us. A Jewish man also appeared, glad of the support.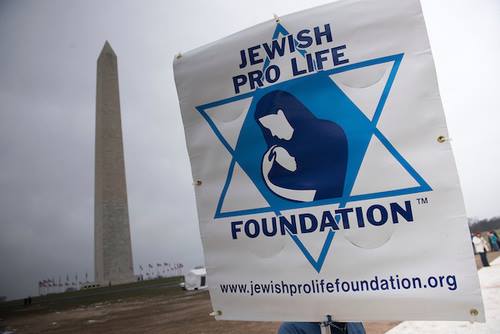 We've met a group of pro-life Orthodox Jews from New York who carry signs declaring, " Abortion is Bloodshed " and " The Almighty Forbids Abortion". In 2014, Gus Lloyd of Catholic Radio interviewed us. After the March this past year we connected with a pro-life Jewish woman who published an article in The Forward online newspaper entitled, "What Does It Mean To Be Jewish And Pro-Life?"  We look forward to participating again next year, grateful that we are welcome among other pro-life Americans.
In Deuteronomy 30:19, our Heavenly Father clearly declares, " I call heaven and earth to witness against you this day, that I have set before thee life and death, the blessing and the curse; therefore, choose life, that thou mayest live, thou and thy seed. "
We embrace the challenge of sharing this often forgotten message within the Jewish community and beyond. In the past decade, we have made special and abiding friendships with pro-life soldiers of all faiths. You have mentored us, encouraged us, and prayed for our success and moral conviction. It is with great gratitude and appreciation that we are invited to share our story with the March for Life audience. We close with a statement written by Rabbi J. David Bleich, a most respected Jewish legal authority:
"A Jew is governed by such reverence for life that he trembles lest he tamper unmindfully with the greatest of all divine gifts, the bestowal or withholding of which is the prerogative of God alone. Although he be master over all within the world, there remain areas where man must fear to tread, acknowledging the limits of his sovereignty and the limitations of his understanding. In the unborn child lies the mystery and enigma of existence. Confronted by the miracle of life itself, man can only draw back in silence before the wonder of the Lord."
To learn more about the Jewish Pro-Life Foundation, please visit our website at jewishprolifefoundation.org.