Brothers are a Gift: Andrew and Joseph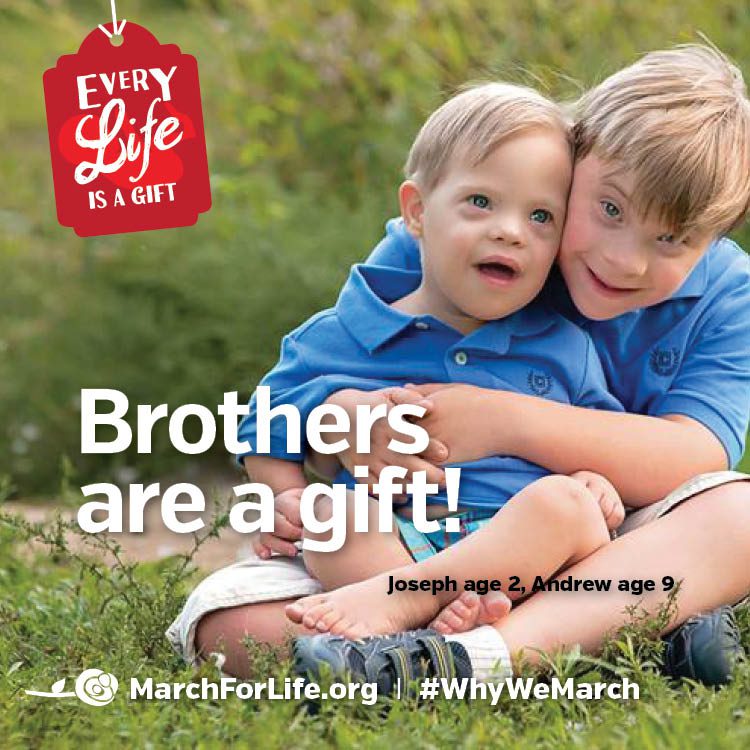 Guest Blog post by Kim Dupliantier.  Kim & Allan Dupliantier live in Stafford, VA.  Their sons, Andrew (9) & Joseph (2), are just two of their nine children. Brothers Andrew and Joseph both have Down Syndrome.
Andrew and Joseph have enriched our lives in countless ways. These special boys bring so much love and joy to our family. Their smiles light up a room. We have all learned to be patient as we have watched them persevere to reach developmental milestones that I took for granted with my other children-sitting, crawling, eating, walking, talking. We celebrate with them and feel their pride. They have taught my other children to be kind, charitable and compassionate as they are quick to help Andrew and Joseph with their needs. This has extended beyond our home, as two of my daughters have volunteered with therapeutic horseback riding for other children with special needs. One of my daughters is preparing to become a nurse, and has expressed interest in working with people with special needs. Another daughter would also like to pursue some field of therapy. I believe this desire has come from having Andrew and Joseph in our family.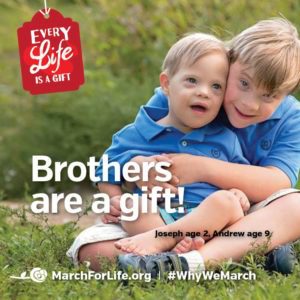 The most important way that brothers Andrew and Joseph have enriched our lives is by showing us the power of prayer and that miracles do happen. Both Andrew and Joseph were born with many medical issues. Andrew was born with a heart defect and duodenal atresia and has had numerous surgeries and complications. God has blessed us with wonderful doctors and nurses and we have witnessed firsthand His healing power. When Joseph was born ten weeks early, he weighed only 2 pounds and was 14 inches long. He was truly a miracle baby, as the doctors told us if they had waited even an hour longer to deliver him, he would have been stillbirth. As he struggled in the NICU, so many were praying and we watched as the prayers were answered. When Joseph came home from the hospital, we noticed that he was not responsive as Andrew and my other children had been as a baby. He made no eye contact, did not respond to any sounds and could not even hold up his head or grasp a finger. We brought him to many specialists, who tried to rule out blindness and hearing loss. Eventually, Joseph began having seizures and was diagnosed with West Syndrome, a rare and catastrophic form of epilepsy. He was having more than a hundred seizures a day. We were devastated. I have never prayed so hard in my life. We watched as God performed another miracle and his seizures are finally under control. He is sitting up and starting to crawl and say words and eat solid food-things I feared we would never see. Joseph smiled for the first time at 13 months old and has not stopped since! He is truly a miracle and we are so blessed!
"Our boys have forever changed our lives for the better and we are so blessed and grateful."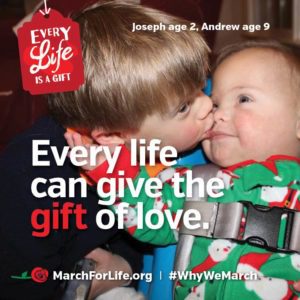 Our prayer is that people would not be scared by a prenatal diagnosis of trisomy 21 or any other chromosomal abnormalities. These special children are truly gifts to be enjoyed and nurtured like all other children. Even with their unique challenges, they are children that need to be loved and want to give love to others. Our boys enjoy life to the fullest, especially the simple things. They like to do all the same things that other children do. They have taught us to live in the present moment. But, most importantly, they have taught our family that a person's worth is not measured by how healthy they are or how perfect they look or how smart or talented they are. A person's worth comes from the fact that they are created in the image and likeness of God, with unique gifts and a special purpose. Our boys have forever changed our lives for the better and we are so blessed and grateful.