8 Things You Need to Know About the 2015 March for Life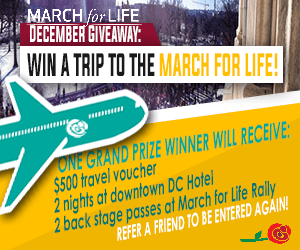 We are only 8 weeks away from the world's largest pro-life rally!  The March for Life is held in Washington, D.C. every year on the tragic anniversary of the U.S. Supreme Court decisions, Roe v. Wade and Doe v. Bolton that legalized abortion on demand.  Whether you attend every year or 2015 will be your first, make sure you know these eight things about the 2015 March for Life!
1.  First and foremost, until December 31, you can enter to win a $500 travel voucher, 2 nights at the Downtown DC Renaissance Hotel, and backstage passes to the March for Life rally!
2.  The 2015 March for Life theme, is Every Life is a Gift, focusing on preborn babies who receive a diagnosis of a fetal abnormality. You can read more about our theme in The Hill and Breitbart News.
3.  2015 is also the 25th Anniversary of the Americans with Disabilities Act, landmark legislation that prohibits discrimination based on disability. Yet babies diagnosed with disabilities, or "perceived disabilities," in the womb are targeted and aborted at rates of nearly 60%-90%.
4.  You can download the March for Life Trip Planner to assist with all aspects of planning, and making the most out of your trip!
5.  On January 21, 2015, you can attend the March for Life Conference, which consists of a Law Conference for law students and legal advocates, Capitol Hill 101 legislative advocacy training, a Culture of Life seminar on the 2015 theme, and a Youth Rally. All events are free, but you need to register.
6.  The March for Life Expo is also free and open on Wednesday, January 21, and Thursday, January 22. This is a great opportunity to connect with pro-life organizations and ministries and pick up pro-life resources and gear.
7.  Are you a student? Submit your entry for the March for Life Student Contest, "Every Selfie Has a Story," and you could win a $100 iTunes gift, a $500 donation to a pro-life charity of your choice, and more!
8.  Finally, there are many related events happening around the March for Life. Be sure to check out our website for the listing that's being constantly updated!
If you want to keep apprised of all the March for Life happenings, be sure to sign up for emails, or follow us on Twitter and Facebook!