2 Days of Life: Democratic Party Plays the Lying Game on Abortion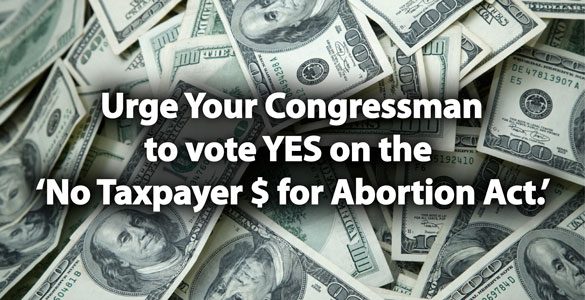 "The visionary lies to himself, the liar only to others." ― Friedrich Nietzsche
Last week the House Judiciary Committee approved H.R. 7, the "No Taxpayer Funding for Abortion Act" by a vote of 22-12. Twenty-one Republicans and one Democrat, Rep. Pedro Pierluisi from Puerto Rico, voted for the bill. During the markup, the Committee rejected eight amendments from rabid pro-abortion Democrats however the Democrats saved their true manufactured drama for outside of the hearing room.
The aptly named Rep. Louise Slaughter (D-NY) falsely decried "that the only women's agenda that the Republicans have put forward is to take away your health care rights and then tell you to get lost." The most pro-abortion Member of Congress, Rep. Diana DeGette (R-Colo.) echoed Rep. Slaughter's deceitful comments however she saved the true deceit for a fundraising email she sent out later that day. In her attempt to continue her "War on Women" Congresswoman DeGette decided that the best way to get ahead is too lie and spread fear among rape victims. An excerpt from the e-mail:
Right now, Rep. Goodlatte and his all-male Republican Judiciary committee members are fast-tracking a bill that could force rape survivors to prove their cases to the IRS in order to have their abortion covered by insurance.
Some background, under Obamacare, premium assistance subsidies to help individuals purchase health insurance are classified as "tax credits" even though the "credits" are paid in advance by the government to insurance companies on behalf of an individual even if the individual has no tax liability in the first place. In effect it is how Washington turns the Internal Revenue Service into a welfare organization. This is one way that H.R. 7 merely tries to take taxpayers completely out of the abortion business.
As for rape survivors, women who have been raped cannot be targeted for audits under H.R. 7. Individual tax returns reflect total dollar amounts for medical care. They DO NOT list each and every expense. Since abortions aren't listed on the return anywhere, the IRS would have no information to prompt an "abortion audit."
If H.R. 7 is enacted, the IRS, under President Obama's authority, will decide what documentation is necessary for the exceptions allowed under H.R. 7. Other federal agencies like Medicaid and the Federal Employee Health Benefits Program (FEHBP) have had no difficulty distinguishing between rape abortions and elective abortions and have done so without a reporting requirement. Barring a very unusual pattern of claims, these programs generally accept a physician's statement that the abortion was for one of these rare cases; there is no reason to expect different behavior from the IRS.
Two congressional agencies (Congressional Budget Office (CBO) and Joint Commission on Taxation (JCT)) looked at the bill and decided that Rep. DeGette is bold faced lying:
CBO and JCT have determined that H.R. 7 contains no intergovernmental or private-sector mandates as defined in the Unfunded Mandates Reform Act and would impose no costs on state, local, or tribal governments.
The ONLY purpose of the No Taxpayer Funding for Abortion Act is precisely what the title implies. There is no hidden agenda but a very bold one that is supported by a majority of Americans. Polling routinely shows that over 60% of those polled oppose taxpayer funding for abortion.
An April 2011 CNN poll showed that 61% of respondents opposed public funding for abortion
A January 2010 Quinnipiac University Poll showed 67% of respondents opposed federal funding of abortion
A November 2009 Washington Post poll showed 61% of respondents opposed government subsidies for health insurance that includes abortion; and lastly
A September 2009 International Communications Research poll showed that 67% of respondents opposed measure that would "require people to pay for abortion coverage with their federal taxes.
H.R. 7 establishes a permanent, government-wide prohibition on taxpayer subsidies for abortion and abortion coverage, including cutting off taxpayer funding for plans that include abortion under the Affordable Care Act. The result of removing tax dollars from abortion funding is saving lives. Research published by the pro-abortion Alan Guttmacher Institute, closely affiliated with abortion-giant Planned Parenthood, demonstrates that policies that prevent tax-funded abortion actually prevent 25% or more of the abortions that would otherwise occur among the covered population.