For the month of July, our March for Life Give Live challenge is to host a "baby shower" for your local Pregnancy Resource Center!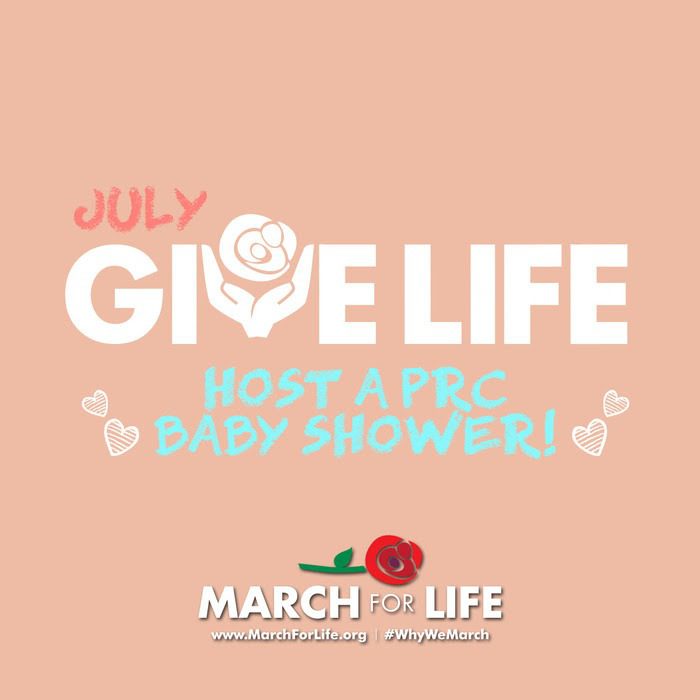 What would you do if a friend were facing an unexpected or "crisis" pregnancy? For millions of women across the country each year, a Pregnancy Resource Center (PRC) is where they turn. For over 40 years, PRCs have offered love, care, and support to women when they need it most, providing resources and an alternative to abortion. PRCs meet the needs of women, moms, and babies, undoubtedly impacting countless lives over the years.
In 2009, the Family Research Council, along with CareNet, Heartbeat International, and the National Institute of Family and Life Advocates (NIFLA) published a report on PRCs entitled, A Passion to Serve.  The report "lays out in detail, through statistical summaries, case studies and client stories, the extraordinary social service contributions made by the nation's PRCs, meeting the needs of women, youth and families."  You can read more about their research and access the report HERE.
Have you ever visited your local PRC? It's likely that you have one nearby. You can find the closest PRC by simply entering your zip code here OptionLine.org. PRCS are mostly led by women, who often volunteer their time to provide much needed resources for pregnant women and moms in need.
There are countless ways that you can lend a hand  to your local PRC and thus the women and babies in need of support in your community. A few years ago, Live Action put together this helpful list of "10 helpful ways to support a Pregnancy Resource Center."
Here at the March for Life this month, we are encouraging you to take our July Give Life challenge and throw a baby shower for your local PRC. This is a great way to show support for your PRC, provide much-needed resources for the center, show love and support for women facing an unexpected pregnancy, and spread the word about your local PRC's work to friends and neighbors. We have provided a handful of suggestions below to get you started.
Contact your local PRC and determine if they have any specific needs.
Gather a group of friends to assist with the Baby Shower.
Determine a location, perhaps a local church, community center, your home, or even the PRC you will be supporting.
Gather your gifts – from diapers to gently-used baby clothes. You could even find a local business who could support a more expensive gift such as a crib or car seat.
Invite friends, neighbors, and anyone who wants to help women and babies! If you work closely with the PRC, you may even invite some of the women they are serving.
Prepare some simple decorations and treats to make a memorable experience. Check out our PRC Baby Shower Pinterest Board for ideas!
Throw your shower! Be sure to share with your guests about the important work the PRC is doing in your community.
Deliver all the gifts and resources to your PRC.
Share your experience on social media, and encourage others to do the same!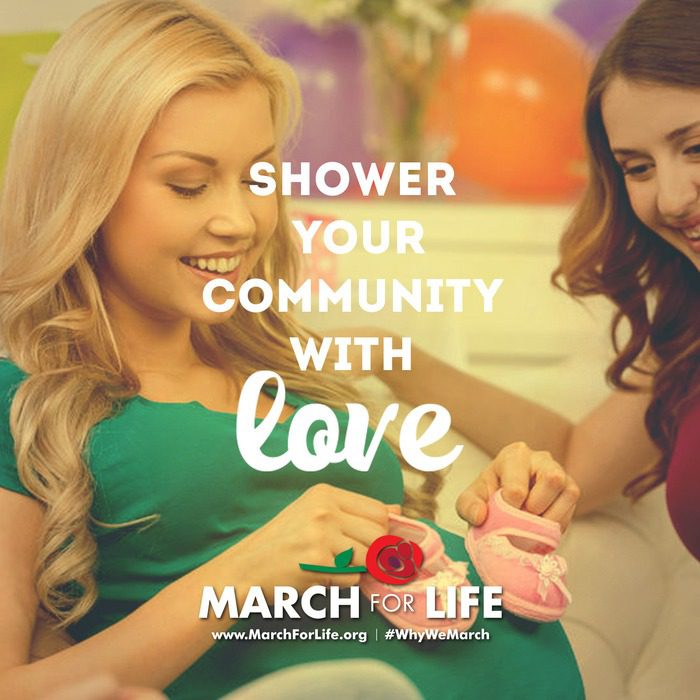 There are many variations  to the PRC Baby Shower – so be creative! Or an alternate but similar idea is the Pregnant on Campus Initiative by Students for Life, which   involves a baby item drive outside a local Target or Wal-Mart.
We would love to hear your stories as you embark on the  Give Life Challenge this month! Please share your experience on social media or consider writing a guest blog post.. Any action you take to help your PRC will go a long way in supporting  women and babies in your community, as well as building a local culture of life.
For further information about Pregnancy Resources Centers, see below: